SUMMER ACTIVITIES
IF YOUR CHILDREN WILL BE AWAKENED BY THE FIRST SUNBEAMS, THE ANTICIPATION TO AN EXCITING DAY IS RAISING. BECAUSE AT THE POST FAMILY RESORT EVERYBODY FINDS NEARLY EVERYTHING WHAT THE HEART DESIRES. WHETHER SWIMMING IN THE HOTEL OWN NATURE BATHING LAKE, CLIMBING, TRAMPOLINE JUMPING OR TIME AT THE BACK OF THE HORSES. A FAMILY SUMMER HOLIDAY OF THE ABSOLUTE EXTRA CLASS AWAITS YOU.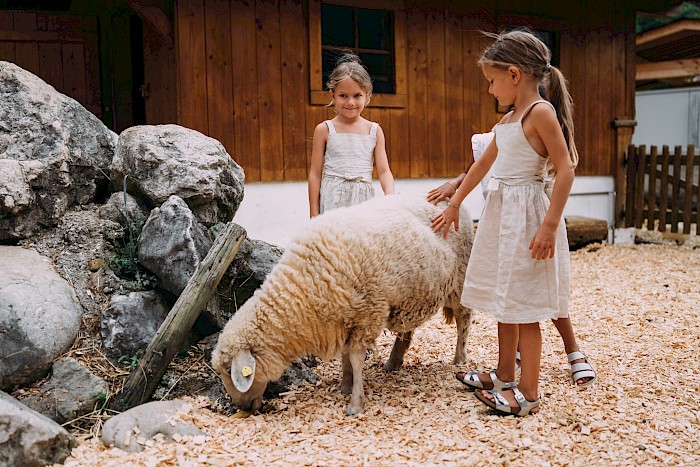 THE RANCH
ONCE GALLOPING LIKE A PRINCESS ON HER NOBLE STEED ACROSS WIDE FIELDS. FEEL THE FINE HAIR BETWEEN YOUR FINGERS, LOSE YOURSELF IN THE GOOD-HEARTED GAZE OF THE HORSE AND ADMIRE ITS IMMENSE STRENGTH.
PRICES
LUNGE RIDING LESSON
Minimum age: 6 years
Riding lesson for beginners
Get to know the gaits up to free riding with reins.
25 minutes
5 pack (5x 25 minutes)
29,-
132,-

PRIVATE COACHING
Minimum age: 8 years
Qualification: free riding in all 3 gaits
The riding instructors will cater to you individually.
Reinforcing gaits, simply riding train figures, flooring with Cavaletti in step and trot.
50 minutes
58,-

RIDE
Minimum age: 8 years
Minimum participants: 2 kids
Qualification: free riding on the rein in all 3 gaits (RIDING PASS)
50 minutes
32,-

HORSE CARRIAGE RIDE
for 2 adults & 2 children

ca. 30 minutes
ca. 50 minutes
each additional person
adult

child

55,-
85,-

15,-

10,-
GROUP LESSON
Minimum age: 8 years
Minimum participants: 3 kids
Qualification: free riding in all 3 gaits
strengthening of gaits, precise riding of simple train figures, floor work with Cavaletti
Monday to Friday

50 minutes

5x 50 minutes

32,-

144,-


PEDAGOGICAL GROUP LESSON
Minimum age: 3 years
Minimum participants: 3 kids
A special highlight of our riding offer is the equestrian education. The children are given playful access to ponies and horses, learn how to handle the animals correctly without stress and pressure to perform. On the ground and on the pony, they gain movement experience and basic motor skills as the basis for any later riding lessons.
FEBS - Group takes place from Tuesday to Thursday.
3x 50 minutes
79,-

PEDAGOGICAL PRIVATE LESSON
Minimum age: 3 years
Equestrian education
25 minutes
25,-

WALK WITH A PONY
Minimum age: 3 years
A riding instructor goes for a walk with pony and child.
25 minutes
25,-
BATHING LAKE WITH
HUGE WATER SLIDE
A FULLY BIOLOGICAL
NATURAL LAKE INCLUDING 80 M LONG
WATERSLIDE AND BABYBEACH.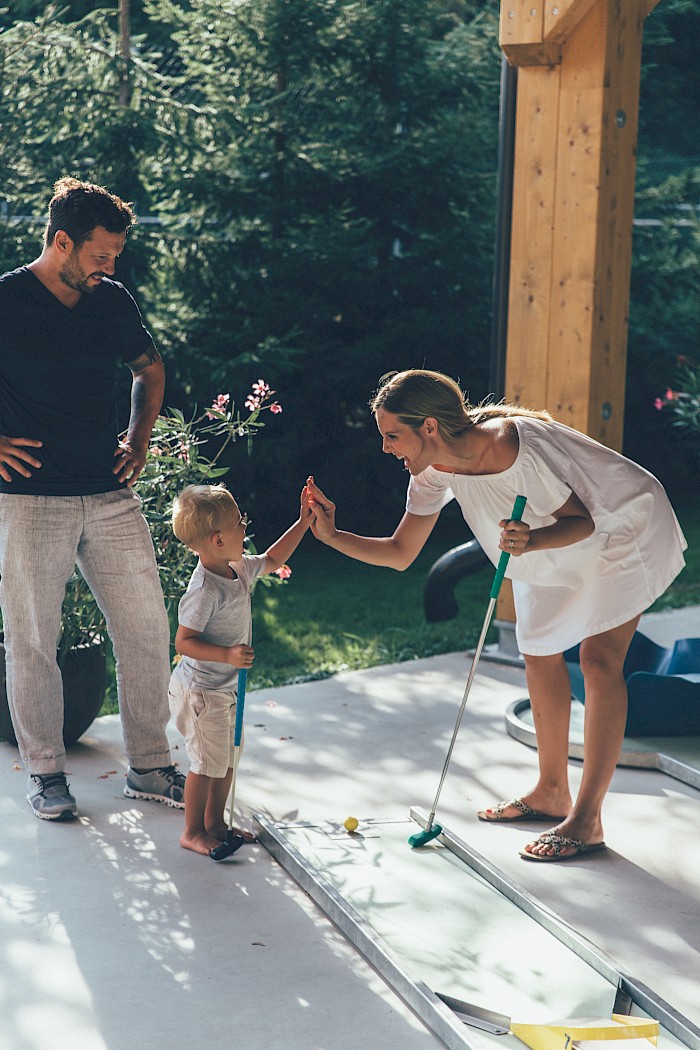 RELEASED
ADVENTURE PLAYGROUND
WATER PLAYGROUND
TRAMPOLINE AREA
GO -CARTS
STREET SOCCER SQUARE
BEACH VOLLEYBALL
AND MUCH MORE ...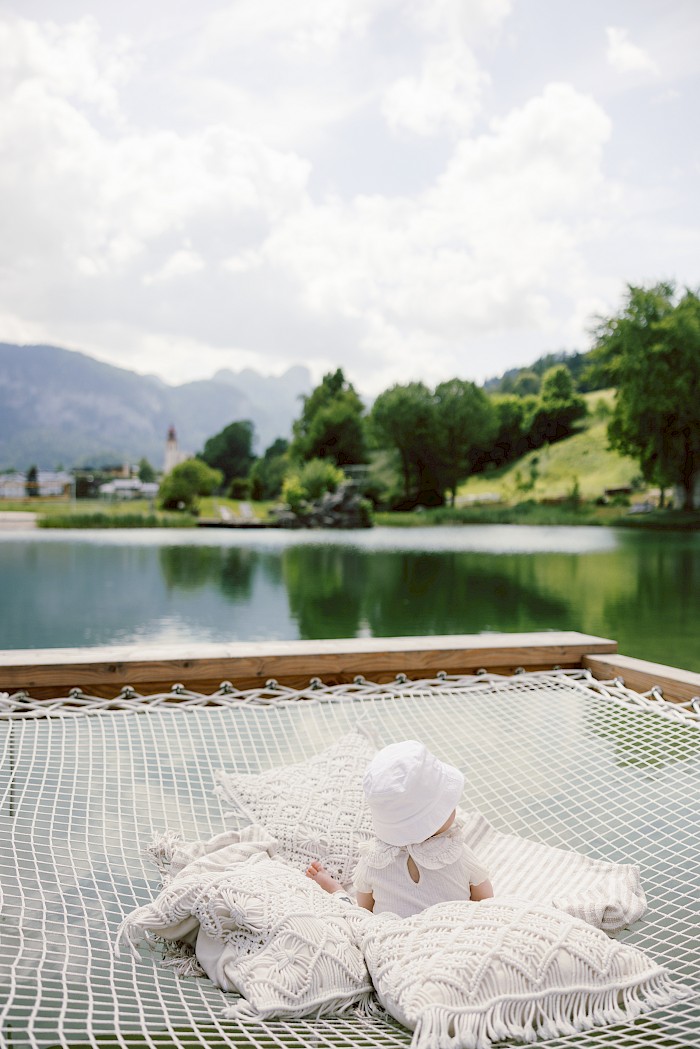 KIDS COURSES
COURSES THAT ARE FUN
FOR ALL THOSE WHO DON'T NEED ANY COURSES, WE HAVE A HUGE OFFER TO ENJOY YOUR TIME WITH A LOT OF GAMES AND FUN IN THE FRESH AIR!
SUMMER
6 hectare outdoor area is a pure children's paradise with adventure playground, trampoline park, streetsoccer-court, giant chess, petting zoo, horse ranch, huge water slide and and and ...
WINTER
Fun and action in the snow with our hotel ski slope, ice rink width floodlights, cross-country ski trail, ski lessons, thermal water outdoor pool, petting zoo, indoor riding arena and and and ....
COURSES & PRICES
ALL-DAY SKIING COURSE (4 to 12 years)
5 x 4 hours, course start: Monday
daily from 10:00 to 12:00 + 1:00 to 3:00 pm
Operator: Skischule Herbst, (book directly here)
Rental:L (rent direktly here)
296,-
HALF-DAY SKIING COURSE (4 to 12 years)
5 x 2 hours
daily from 10:00 to 12:00
Operator: Skischule Herbst, Lofer (book directly here)
Rental: (rent directly here)
239,-
LUNGE RIDING LESSON (from 6 years)
Riding lesson for beginners
25 minutes
5 pack (5x 25 minutes)


29,-
131,-
PRIVATE COACHING (from 8 years)
Qualification: free rding in all 3 gaits
50 minutes
58,-
GROUP LESSON (from 8 years)
Minimum participants: 3 kids
Pre-condition: free riding in all 3 gaits
5x 50 minutes
144,-
PEDAGOGICAL GROUP LESSON (from 3 years)
Minimum participants: 3 kids
3x 50 minutes
79,-
PEDACOGICAL PRIVATE LESSON (from 3 years)
Equestrian education
25 minutes
25,-
WALK WITH A PONY (from 3 years)
A riding instructor goes for a walk with pony and child.
25 minuten
25,-
RIDE (from 8 years)
Minimum participants: 2 kids
Qualification: free riding on the rein in all 3 gaits (RIDING PASS)
50 Minuten
32,-
SWIMMING COURSE (from 4 years)
Minimum participants: 3 children
5x 45 minutes
90,-
MINITENNIS (from 4 years)
Minimum participants: 3 children
3x 50 minutes
50,-
TENNIS COURSE (from 6 years)
Minimum participants: 3 children
5 x 55 minutes
80,-
CLIMBING COURSE (from 6 years)
Minimum participants: 3 children
3x 55 minutes
80,-
FISHING COURSE (from 7 years)
Minimum participants: 3 children
3x 55 minutes
including children's fishing set
The fishing course is only offered in October.
80,-
WHITEWATER RAFTING TOUR 'PANORAMA'
(from 6 years)
length: ca. 3 hours, within in the KIDS CLUB programme
Operator: Base Camp
47,-
CANYONING TOUR 'KIDS ROCK'
(from 6 years)
length: ca. 2 hours, within the KIDS CLUB programme
51,00