WINTER ACTIVITIES
THE POST FAMILY RESORT OFFERS NUMEROUS OPPORTUNITIES TO ENJOY MANY GOOD THINGS TOGETHER IN WINTER TOO. AND WHAT'S MORE, THEY ARE CLOSE BY. THUS NOT ONLY CAN YOU AND YOUR LOVED ONES RELAX IN OUR SPA AND SAUNA COMPLEX, BUT YOU CAN ALSO EXPLORE THE SURROUNDING SKI AREAS. AND CHILDREN HAVE THE CHANCE TO GET THEIR FIRST EXPERIENCE SKIING RIGHT OUTSIDE THE HOTEL DOOR.
SKI AREAS
AROUND THE HOTEL
THE POST FAMILY RESORT IS SITUATED IN THE MIDST OF TWO FANTASTIC FAMILY SKIING AREAS IN SALZBURG PROVINCE. FAMILY-FRIENDLY PRICES AND PERFECTLY PREPARED SLOPES AWAIT YOU ON YOUR SKIING VACATION.
 
SKI HOLIDAY AT
POST - FAMILY RESORT
THE POST FAMILY RESORT IN UNKEN OFFERS YOU MANY DIFFERENT WAYS TO SPEND AN INCOMPARABLE WINTER VACATION. FOR EXAMPLE, THERE ARE TWO SKI AREAS IN THE IMMEDIATE VICINITY WITH OVER 60 KM (37 MILES) OF SLOPES, WHICH GUARANTEE YOU AND YOUR WHOLE FAMILY SKIING PLEASURE, WHETHER YOU ARE NOVICES OR EXPERTS.
ALMENWELT LOFER
The Almenwelt Lofer [Lofer Alpine World] family ski area is only a 10 minute car trip away from the hotel and is easy to reach by car as well as by the free shuttlebus. The shuttlebus stop is directly in front of the hotel entrance. Children in skiing courses will be looked after by the care givers.
ALMWELT LOFER OVERVIEW:
Only 8 km (5 miles) away from the hotel
Free ski bus 3x daily, station in front of the hotel
Extra shuttle for children taking skiing courses
VIP vouchers for a mid-day snack right on the slope
10 cableways and lift systems
46 km (28 miles) of well-maintained, perfectly prepared ski slopes, 35 km (22 miles) of which have snow making systems
9 km (5.6 miles) downhill slope (1000 m (3,280 ft) altitude difference)
Snow park with18 rails and jumps
Funcross for freeskiers
Children's area with 3 practice lifts and roofed conveyor
Almenwelt circular hiking trail with high altitude cross-country skiing trail
Children 4 to 12 years - Whole-day skiing courses € 274.00
Sunday to Friday 10:00 am to 12:00 and 1:00 pm to 3:00 pm
Family ski pass (6 days) for 2 adults and up to 2 children (up to 14 years old) starting at € 436.00
LUNCH SNACK
With the VIP-vouchers you will receive your lunch in the Almenwelt Lofer directly on the slopes - of course included in the POST gourmet full board.
HEUTAL HIGH PLATEAU OF UNKEN
With the car you only need 15 minutes to the high plateau Heutal. With its three tow lifts, the ski area is rather small, but that is exactly what many of our regular guests like about it. No commotion, easily navigable descents, well-maintained and in part challenging slopes. The Heutal is especially popular among cross country skiers, snowshoe hikers, and tour hikers. You will also find fantastic luge runs and cozy ski lodges for pit stops.
OVERVIEW OF THE HEUTAL FAMILY SKI AREA:
Only 7 km (4.3 miles) away from the hotel
3 tow lifts between 1000 and 1500 m (3,300 and 4,900 ft)
14 km (8.6 miles) of slopes
50 kilometers (31 miles) of cross-country skiing trails
Eldorado ski tours
LUNCH SNACK
With the VIP-vouchers you will receive your lunch in the Almenwelt Lofer as well as in the Heutal directly on the slopes - of course included in the Post - inclusive services package.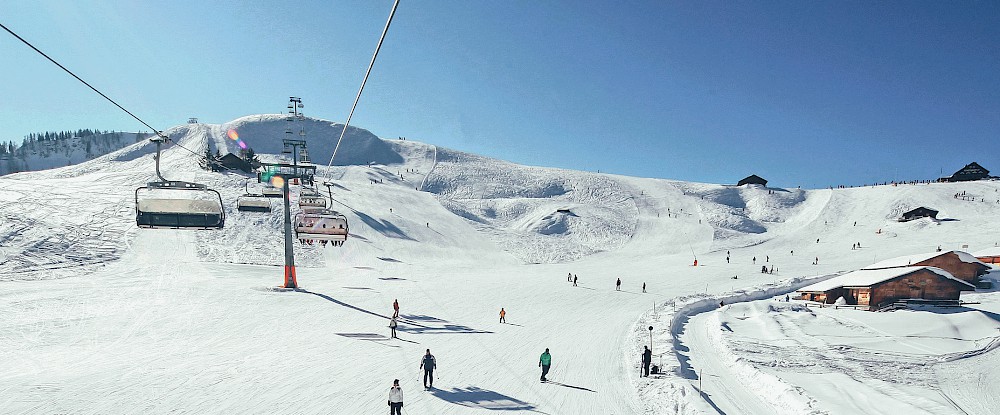 ACTIVE IN
THE WINTER
DAILY MORNING SPORTS, WINTER NORDIC-WALKING, SNOWSHOE HIKES, WINTER HIKES, SKI TRIP COURSES, CROSS-COUNTRY SKIING COURSES ...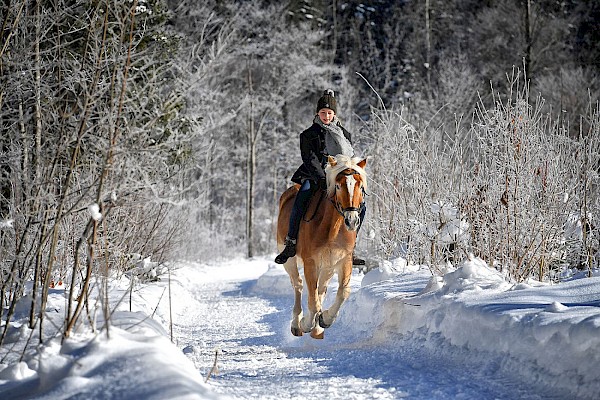 WINTER REITEN
AUF DEM RÜCKEN
UNSERER BESTENS
AUSGEBILDETEN PFERDE
KINDERKURSE
IM POST - FAMILY RESORT SIND SPORT UND BEWEGUNG EIN WICHTIGER BESTANDTEIL DES GESAMTANGEBOTS.